It was already very late in the flying season when we were offered the opportunity to record one of the staples of modern general aviation, the Cessna 172 Skyhawk. Eager as we were to get to know the Cessna 150's bigger sibling, you certainly didn't have to tell us twice! So, during a cold November morning, off we went to Flugplatz Stadtlohn-Vreden.

For setting up our outdoor recording studio, we packed the same gear as used in the DR400 recording session; a Zoom H6 field recorder, Sennheiser ME66 shotgun microphone and our trusty RØDE VideoMic Pro. In addition, we were also bringing along our brand new ORTF setup to capture stereo images of aircraft passing by. The low temperatures (only slightly above freezing) could mean trouble as it negatively impacts performance of microphones and batteries. But as they say, there is just one way to find out...
The subject aircraft was PH-GEO, a Reims built Cessna 172N Skyhawk. Up close, the aircraft looked very well maintained. A classic white livery with blue and grey striping was gleaming in the daylight and the blue cloth interior appeared straight from the factory.
After meeting up with the pilot it was time to get down to business and record some sound effects! As there was still very little activity at the airport, meaning almost no background noise, we started off by recording several pre-flight checks first. Typical checklist items such as verifying oil and fuel levels were all recorded in high definition.
---
Next, we moved into the immaculate looking cockpit where we found... a lot more controls on the instrument panel than any of the GA aircraft we recorded previously. This was mainly due to the fact that this aircraft was certified for IFR flights, so it carried additional instruments and avionics. It even carried a tablet on-board for displaying charts.

As luck would have it, the on-board radio stack was composed of several well known radio and navigation units (e.g. a Bendix-King KX165A NAV/COMM radio). This will save us some time in future recording sessions with similarly equipped aircraft.
Having quickly briefed the pilot on the recording procedure we needed to get things moving. So naturally, right after pressing record, another pilot decided it was time for a lenghty engine warmup session right in front of our aircraft... Oh well, it's an airport after all! Fortunately none of us were pressed for time, so we simply waited until the other aircraft taxied off before recording anything.

With no further traffic in sight, we went through all the controls, making sure to capture every audible detail. Right after we finished up, Cessna 172 D-EECV started up next to us. Interesting to hear the same aircraft type from within the cockpit.
During our baseline noise level test inside the aircraft (everything off) we noticed a faint ticking sound. How can this be, everything is off and our recording equipment was working fine the day before!? Lesson learned; mechanical on-board clocks keep running even if the master battery is off...


Now it was time for the main event, the engine noise. As we still hadn't got the necessary equipment to record interior and exterior engine noise in a single take, it was decided to do it in 2 takes; interior first. After making sure the area was clear the engine started right up. Although you could "feel" the startup, it didn't shake the aircraft much. Overall the engine sounded very smooth throughout the RPM range, all the way up to 2500. Only when attempting to record very low RPMs, the engine ran a bit rough, which is to be expected.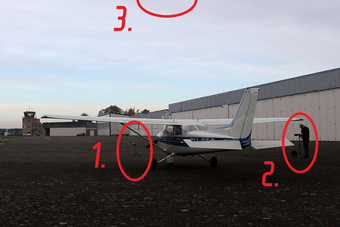 Moving on to the exterior, we configured our microphones in a three point setup around the aircraft. The first microphone (1) was placed in front of the aircraft. The second microphone (2) was placed next to the wingtip, aligned with the propeller and exhaust. Finally, the rear microphone (3) was mounted on top of our DSLR camera and was slightly offset from the center so it wouldn't get caught directly in the propeller wash this time.
Luckily for the microphone in front; the brakes held or we would have had wind jammer salami slices for lunch.

As the engine came to life for a second time, we noticed it was relatively quiet on the outside too, until the RPMs started to rise... At full throttle we could literally feel the propeller noise as the brakes were struggling to hold the aircraft in place. Best day at work ever? Well, definitely so far!

With engine RPM dropping back to idle, sanity returned and with a few puffs from the exhaust the engine was shut down. But we weren't done yet, quickly grabbing our field recorder we moved our microphone up as close as possible to the exhaust manifold to capture yet another typical sound effect; metal shrinkage due to heat dissipation. And with that, our exterior take was completed.
During recording we noticed the engine sounded slightly "meatier" than the average Cessna 172, later we found this particular aircraft was fitted with a Lycoming O-360 (180 hp). Most Skyhawks are powered by the O-320 (150-160 hp).
During the remainder of the day we captured additional Cessna 172s on takeoff (including PH-GEO) and later on we also deployed our ORTF setup for the very first time, yielding high quality stereo images. Probably due to the low temperatures and the low cloud deck, only a few aircraft were flying, meaning we could capture each one without noise pollution from others. Perhaps most surprising were the surface winds throughout the day, as in... there were none... to speak of... at all. We could have easily left our wind jamming equipment at home.

All in all it was a superb day for recording. The equipment held up great despite the environmental conditions. And last but not least we were in good company!
---
Und schließlich möchten wir noch dazu sagen; Vielen Dank zur alle leute die am dieser Tag mit uns gearbeitet haben.

---
sources and links
Flugplatz Stadtlohn-Vreden homepage (German language)
All photos in this article are by SimAcoustics unless stated otherwise.