After making the necessary arrangements, we left for Flugplatz Stadtlohn-Vreden, a small German airport just across the Dutch border. We didn't really know what to expect but we had no doubt it would be a very interesting day. We've travelled for recording sound before, but this would be our first in-depth field recording with full access to a subject aircraft that was being flown regularly.
Having arrived at the airport it became immediately apparent it would be a good day for recording, high visibility, low winds and a bit of sunshine with temperatures well in the 20s (Celcius). And since we were visiting on a Sunday that meant lots and lots of traffic (i.e. recording opportunities). Actually there was so much to see, hear and record that it wasn't until well in the afternoon that we finally got around to the Cessna 150 in question. Meet D-EIVM or "Victor Mike" for short.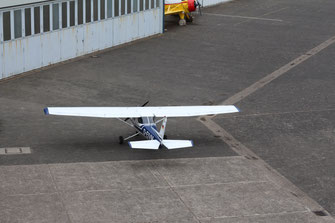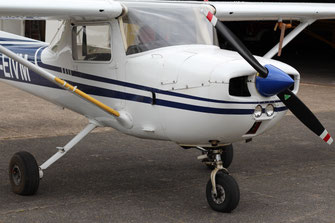 The aircraft is a Cessna-Reims built model F150M, all specifications similar to the regular 150M except for the fact that it was built in France. A classic blue striped paintjob adorned the exterior completing the familiar Cessna-look. On the interior things were very cramped, this aircraft has a minimalistic approach in every regard, including leg room!
Later on I learned that a popular hack for extra room is to put the front seats in an uneven arrangement. In this arrangement, the passenger sits further back than the pilot which provides a more comfortable seating positions.

While recording on the interior the minimalistic approach once again became apparent as the acoustics fit those of a large hollow aluminium tube... with a little sound deadening on top. Luckily, using a shotgun style microphone cancelled out most of the unwanted reverbs.

The gyros behind the instruments produced a loud high frequency noise, so loud in fact that recording "clean" engine sounds would be a challenge. Only when the Continental O-200 engine reached 1500 RPM did the gyro noise fade into the background as exhaust and propeller noise started to take over. For safety purposes, maximum RPM was limited to 2000. At full throttle the O-200 will run up to 2700 RPM.
A cold reciprocating aircraft engine (such as the O-200) always has difficulty in holding a stable combustion below 1000 RPM. Not only that, but the engine will violently shake the whole aircraft as it struggles to keep running. Usually a warm up regime of around 1100 to 1200 RPM is followed for the first couple of minutes into the flight.
After waiting for GA traffic to clear (to prevent recording unwanted engine noise), a second  engine run was performed to record the exterior engine noise. Raising and lowering RPMs by hand gestures was an interesting experience, but it all worked out brilliantly in the end. Especially the warm idle setting of around 800 RPM produced some wonderful exhaust notes. For such a small engine with

Hopefully in the future and with the help of better equipment (i.e. multiple microphones) we will be able to do interior and exterior engine noise recording in one take. But apart from that, capturing all the noises the Cessna 150 makes was a complete success. And we're looking forward to new projects and recording opportunities.
Update: Sound package Preview
Our choice to record the Cessna 150 was not entirely by chance... one of our clients is developing a related product for X-Plane 11. As such, the samples recorded from D-EIVM have since been implemented into an FMOD sound package.
The video on the right shows the new sound set being tested on the default Cessna 172 (model by Laminar Research). The video highlights several features of the sound package such as equipment and engine noise.
Further details on the product and a release will follow in late 2019.
---
Vielen Dank an alle leute, die es möglich gemacht haben. Die Tag war sehr informativ und ein großer Erfolg im Thema Geräuschaufhnahmen! Gerne bis zum nächsten mal :)
---
sources and links
Flugplatz Stadtlohn-Vreden homepage (German language)
All photos in this article are by SimAcoustics unless stated otherwise.